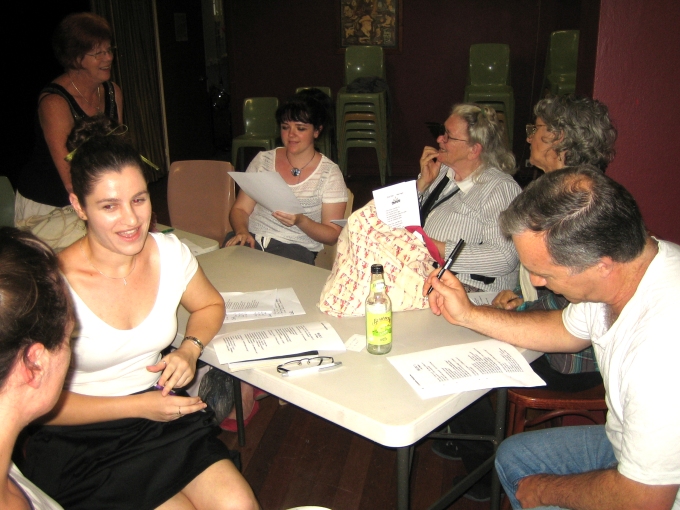 Register to attend Irish language classes and conversation
Please email ILSS @IrishLanguageSchoolSydney and tell us what class you want to attend:
Beginners level class - online
Medium level class - online or face-to-face depending upon COVID conditions
Conversation - online
When and where are classes?
Classes are on Monday nights 6 to 8 pm, either at the Irish Cultural Centre (Gaelic Club), 1/64 Devonshire Street, Surry Hills, near Central railway station, or online.
Are classes held throughout the year?

From the first Monday in February, to the second Monday in December inclusive, Except there are no classes on any public holiday.
Is there a class to suit me?

The classes are intended to allow anyone to learn or re-learn Irish. There are classes at two or three levels plus a Monday conversation group.

There is one class for absolute beginners, typically Australians who have never learnt Irish.

Another class for people with a greater facility at Irish, and who may have learnt Irish at school in Ireland but want to brush up on the language, including the grammar.

And a third may become available for people who are fairly confident speakers but who want to extend their skills in the language.

Our conversation group also meets on Monday evenings. It is informal and relaxed and can vary from four to ten participants. Although not everybody has quite the same command of the language, everyone is willing to have a go and this adds interest and spontaneity. Topics are not pre-arranged and range from news and current affairs to the personal and general chit chat. We constantly aim to increase our vocabulary range as well as to extend the other language skills with the overall aim of improving fluency.
What is the cost of classes?

The first lesson is free. As of May 2021 the class fees are $5 per night (or $2 for concession card holders). You can pay by the term $50 (or $20 concession). A term is 10 weeks.
Are there any classes for children?
We do not have classes designed for children. However children over about 12 years of age with a parent or guardian are welcome.
Are the teachers paid?
Teachers may be paid an honorarium.
Do I need to buy a text book or pay for anything else?

The teachers will recommend a book to you.
I have another question who do I ask?
Please contact us through the Contacts page.
Updated 2022-01-23