Irish Republican Courts 1919 to 1922: Political Tool or Legal System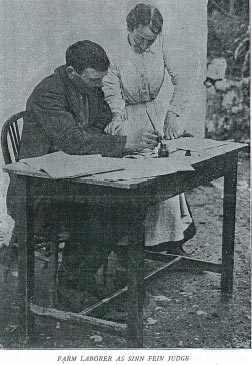 Táine Mac an Iarla will speak on the legal system under the first three Dáil governments.

In addition to being a student at Scoil na Gaeilge Sydney, Táine is a practicing lawyer and legal historian at Macquarie University with a particular interest in Irish legal history.

In the British General Election of 1918, Sinn Féin candidates won 73 of the 105 Irish constituencies. These MPs withdrew from Westminster, and declared themselves the new Government of Ireland. They attempted to administer Irish affairs in defiance of the 'official' government. Amongst the ministries formed was a Ministry for Home Affairs, which established Dáil Courts throughout the country in opposition to the Crown legal system. The Dáil Courts enjoyed significant success. It is said that in many parts of the country the Crown courts stood empty for want of business. This talk will examine how the courts functioned and their relevance to the political struggle for Irish independence.